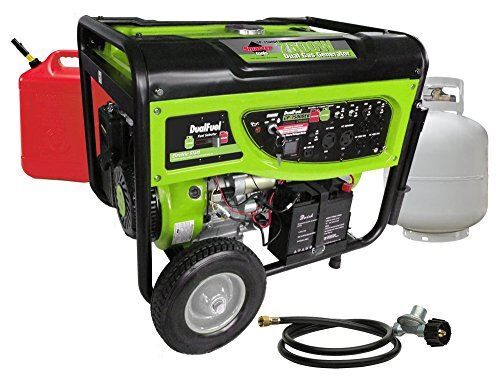 The Smarter Tools ST-GP7500DEB Isn't available anymore please check our top inverter generators reviews
Our Alterative option

Briggs & Stratton Q6500 Quiet Power Series Inverter Generator | CO Guard, 6500 starting watts
QuietPower Series Inverter Technology - Inverter technology produces power that's more than 60%...
306cc Integrated Engine/Alternator - A highly-efficient integrated engine/alternator provides up to...
Protective, Noise-Reducing Shell - With an all-steel frame enclosed in a protective shell, noise is...
Compact, Lightweight Design - With a design that's 45% more compact and 30% lighter than standard...

Summary
The Smarter Tools ST-GP7500DEB is a dual fuel powered generator capable of powering even the most demanding appliances. If you are not familiar with the brand, let us tell you that Smarter Tools has been building generators for over 20 years and has thousands of satisfied customers.
The ST-GP7500DEB multi fuel generator can be run on propane or gasoline, has an electric and pull/recoil starting mechanism, and a front panel with several outlets and easy-to-read indicators. Its powerful engine delivers energy efficiently wherever you need it, and setting the generator in the exact spot you require is easily done thanks to its set of rear wheels.
After reviewing the broad range of features this dual fuel portable generator, we must say we were pleasantly surprised. It is well built and has several safety features that will protect it from common mistakes that novice users might do, but it also perfect for someone who has lots of experience with this type of machines
What's in the box?
ST-GP7500DEB dual fuel generator
Wheel kit
Instruction manual and quick-starting guide
Propane gas line
One bottle of oil
Spark plug tool
Battery charging cables
The Smarter Tools ST-GP7500DEB engine
Energy is generated with the help of a 4-stroke OHV, single cylinder, air cooled engine type. Since forced air cools it, the weight is minimized, and maintenance is simpler.
Although it has a displacement of 389cc and is rated at 15 hp, the engine meets EPA and CARB emission standards. We did notice that the noise level is rated at 73dB; not exactly quiet but very good for the size of the engine.
The Oil
As with any other multi fuel generator, this one is shipped with no oil in the crankcase. It was a nice touch to include a bottle of oil with the purchase, so you can fill up the reservoir and start using the generator without having to pay a visit first to your local Walmart.
The oil supplied does come in a plain gray bottle with no info on it, so if you'd rather use a recognized brand it is recommended to only use an SAE 10W-30 type, and one quart should be enough to fill it up.
Measuring the oil level is simple since the cap has a dipstick similar to the one in most vehicles. You do need to be careful with the oil filler cap since it is not secured to the generator and can easily fall to the ground and get dirty.
As a safety feature, the generator has a low oil shutdown feature. It continuously monitors the oil level in the crankcase, and if it is too low, the engine will shut down automatically. Using any engine with low oil can result in catastrophic failure, so this can prevent expensive damage to the machine. Some owners, however, have reported that this feature can prevent the generator from operating if it is set on the ground with obvious inclines. This generator should only be operated on a level service.
The Gas
Fresh, regular unleaded fuel with a minimum octane rating of 85 will be what you need when operating the ST-GP7500DEB. The fuel tank has a capacity of 7 gallons. There is a built-in fuel strainer that helps keep any debris outside the tank when you are filling it up.
Unlike the oil cap, the fuel cap does have a chain which attaches it to the generator, so you don't have to worry about misplacing or dropping it. With a full tank and at a 50% load, you can easily run the generator for about 9 hours.
On the top side of the generator there is a fuel gauge. Having a fuel strainer makes it difficult to properly see how much gas is left, so this gauge is a welcomed feature.
The Propane
Owning a dual fuel generator means that you do no longer have to rely on one single source of energy. If you live in an area which gets hit by natural disasters, such as floods, tornados, or heavy snowstorms, you know how your quality of life quickly drops when your electric power goes off for several days. Even worse if you depend on a well pump to provide water to your home.
When these disasters hit, where is the first-place people go to? Yes, to the gas station to fill up their cars, and gas will quickly be sold out. With this dual fuel generator, all you need to do is switch over to the propane option to keep it going.
A 20lb propane cylinder can give 7 to 8 hours of engine run time. The advantage of using propane is that is can be stored for a long time, while gasoline will start to break down, so you can keep a stock of propane tanks ready for the next emergency.
The Battery
Included with this generator is a 12v 17Ah battery which powers the electric starting mechanism. All you need to start the generator is turn the key to the ON position.
If the battery is discharged and the electric starter does not work, a backup pull/recoil mechanism will let you turn the engine on. Once it is running, the battery will get recharged automatically and be ready for the next time you need it.
The Control Panel
Located on the side of the generator, the control panel provides information and is where the electrical devices can be connected.
An LCD shows the hours the engine has run. You can also see the current voltage and Hertz produced by the generator.
Two 120V, 20A Duplexes are available. They are protected by 20A circuit breakers. Each duplex can operate 120-volt AC, single phase, at 60Hz, with loads requiring up to 2,400 watts of power.
There is one 120/240V 30A twist-lock, protected by a 30A circuit breaker. This can power 240 Volt AC at 60Hz, single phase loads requiring up to 7,200 Watts of power
Also, a 120V 30A twist lock is available, protected by a 30A circuit breaker, ready to operate 120 Volt AC at 60Hz for up to 3,600 watts of power.
If you need to recharge a car battery, there is a 12V DC connector. The generator includes a set of battery cables to charge most truck, RV, and boat batteries.
On this front panel, you can also verify that the oil level is correct. If it is not, a red LED will light up.
The Wheels
A wheel kit is included with this electric generator. Assembly is simple and should take a few minutes, all you need is a socket wrench with 10mm, 14mm, and 17mmm sockets. The wheel kit consists of 3 parts:
10" Wheels
Crutches
Handrails
You don't have to worry about risking getting a flat wheel while moving the generator around. They are made from solid rubber and are strong and sturdy.
Once you attached the crutches, the generator will be perfectly level. This is important since it keeps the low-oil shut-off mechanism from activating.
A convenient set of handrails lets you easily move the generator from one place to another. All you need to do is pick it up, just as if you were using a wheelbarrow. Once you are done, they can fold down for more compact storage.
The Customer Support
This is one of the kind of generator manufacturers that deserve a section to talk about their customer support. There hare raving reviews all around the internet about how helpful the Smart Tools staff are. For starters, the instruction manual has a customer service phone number you can call in case of any problems. If you'd rather contact them by email, you can also do that and they will promptly respond.
The generator is backed by an excellent two year or 200 hours or operation warranty.
Maintenance
There is no use of having a dual fuel portable generator that is easy to operate but requires a rocket science degree to maintain. Fortunately, the ST-GP7500DEB is easy to use and to keep in top shape. A maintenance routine is included in the instruction manual.
Basically, you need to do regular oil changes and spark plug replacements. The generator ships with a spark tool to facilitate this task.
Cleaning the air filter is quick and painless. It can be washed in liquid detergent and water and to open the air filter cover all that is needed is to release a couple of snap clips.
Our ST-GP700DEB Electric Generator Ratings
Reliability
The ST-GP7500DEB is a generator that will provide many years of service. It has the convenience of an electronic starting mechanism where one turn of the key will make the engine run. Best of all, being able to choose between gas or propane means you don't have to worry about the weather. If it is too cold outside and the propane fuel is having problems to get the engine started, just switch over to gasoline, and the problem is solved.
Noise
This is a powerful machine, so making it silent would be impossible. However, rated at 73 dB, it is similar to a large lawnmower. It is not easy to measure a noise rating since it all depends on your tolerance. Some owners say that they don't even pay attention to their generator when it is running, while other say that after a few hours it can get on your nerves.
Maneuverability
The two rear wheels and handles which make it easy to pick up the generator make it excellent in maneuverability and easy to transport to wherever you need it.
Maintainability
A straightforward routine schedule must be followed, and it is all detailed in the instruction manual. You will only require having a thorough maintenance done on the generator once it reaches 300 hours of operating usage.
Value
With dual fuel capacity and high-wattage produced, this generator gives excellent value for its price. When you compare it against other machines which have similar prices, you will notice how the ST-GP7500DEB leaves them behind.
For example, the Westinghouse 7500W machine can only run on gas and has fewer receptacles available for plugging in your devices, but costs almost the same as this one.
LST-GP7500DEB dual fuel portable generator pros
· Electric start, battery included
· Overload protection and low-oil shutdown
· LCD and fuel gauge
· Dual fuel
· Great wattage and plenty of receptacles
LST-GP7500DEB dual fuel portable generator Cons
· No remote starting
· Outlets are not covered to protect them from the elements
Specifications
| | |
| --- | --- |
| Engine Type | 4-Stroke OHV Air Cooled Single Cylinder EPA and CARB Certified |
| Horsepower | 15 |
| Engine Displacement (cc) | 389cc |
| Running Watts | 6200w gas/5580 LPG |
| Starting Watts | 7500w gas/6750 LPG |
| Rated Frequency | 60HZ |
| Rated Voltage | 120V/240V |
| Rated Current | 51.6A gas/46.5A LPG |
| Run Time | 10hrs at 50% load |
| Receptacles (qty.) | (4) 120V AC; (1) 240V/120 AC; (1) 120V 30A AC; (1) 12V 10A DC |
| Net/Gross Weight | 185/187lbs. |
| Noise Level (dB) | 73dB |
| Fuel Type | Unleaded Gasoline/Liquid Propane Gas |
| Fuel Capacity (gal.) | 7 |
| Oil Level Sensor | Yes |
| Oil Type | SAE 10W-30 |
| Start Type | Electric /Recoil |
| AC Volt Meter | Yes |
| Frame Construction | Tubular Steel |
| Wheel & Handle Kit | 10″ No-flat Tires; Dual handles; 3 1/2″ crutches |
| Dimensions L x W x H (in.) | 28″ x 21.5″ x 22″ |
| Battery | 12 Volt 17 Amp Hours Nut & Bolt Terminals |
As an Amazon Associate we earn from qualifying purchases.