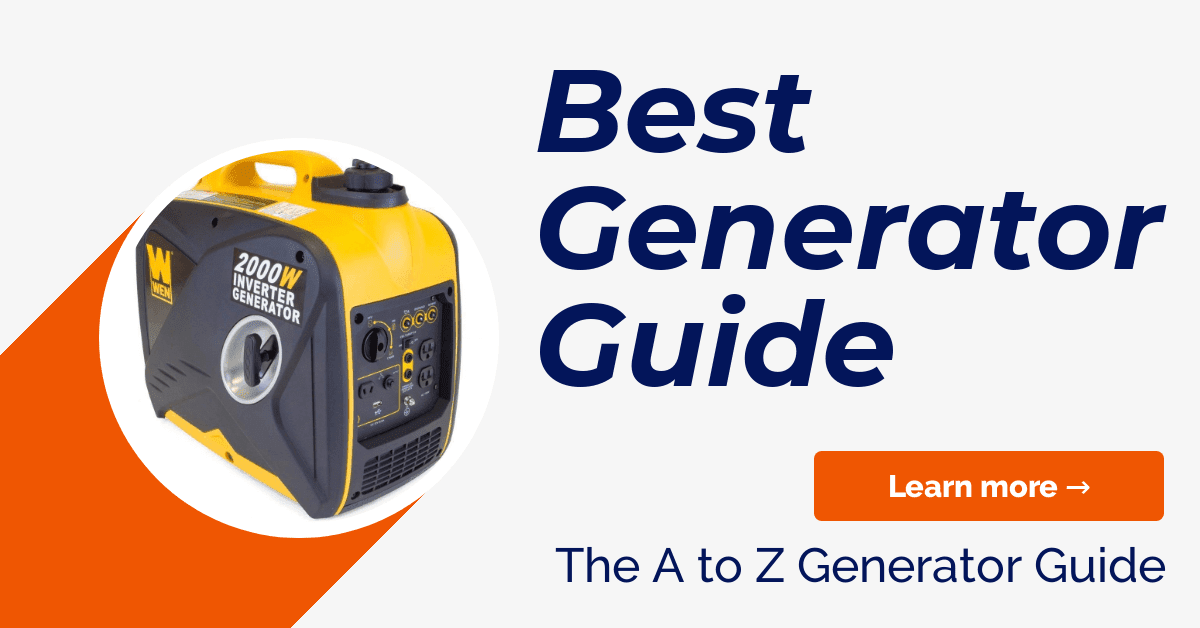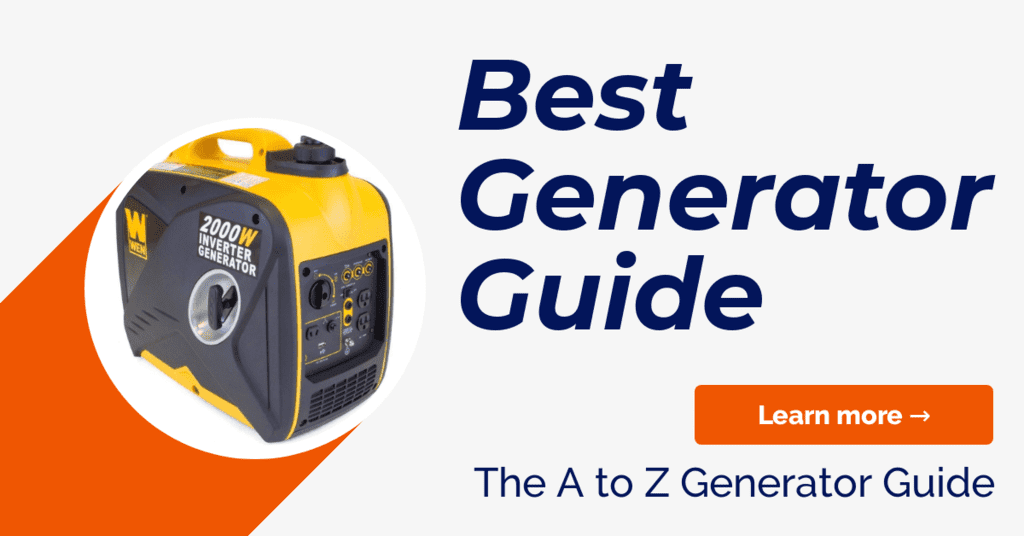 A generator is a very powerful and useful device for producing sufficient electricity to meet domestic or industrial demands in case of power shortages. They are also used in areas where grid systems are not reachable.
Generators are available in different types with different specifications and purposes. And, it is very obvious to get confused when choosing from a variety of generators. Therefore, it becomes essential to have an authenticated and comprehensive guide for buying a generator.
---
The Best Generators for 2022 ⚡
Best Dual Fuel 30 Amp Generator
Best Quiet 30 Amp Generator
Since they're designed to be used anywhere, portable generators are typically lightweight to allow for easy mobility.
No products found.
A typical portable generator has a run time of 12 hours or less depending on make and model. They're designed to power standalone applications for a short time. Extension cords are used to connect the applications to the generator and most units use a manual start, although many newer models have alternative electric start buttons.
While they're limited in output, portable generators have many benefits. They are usually compact to allow for easy mobility; they can run on a variety of fuel types if required.
Portable generator summary:
Tend to be compact
They're relatively cheap – they range from $300-$2000
They are limited in output – range from 1000 to 10000 watts
Designed to provide temporary power
Designed to run for a limited time (6-12 hours typically)
Can use a variety of fuels – gasoline, diesel, propane or natural gas
Generators are not made the same, which means some models have features that you'll not find on others. However, when buying a generator with specific user requirements, there are certain features that count.
⚡Noise levels
For portable generators, the noise level is very important. Chances are you'll be using the portable generator
⚡Electric start button
Many portable generators use the tried and true recoil start method but the hassle of pulling a cord is something many buyers would think twice about.
As such, many models now offer electric push start buttons for added convenience. This is a feature of convenience that counts when you're making a new purchase. It also adds weight and additional maintenance requirements.
⚡Automatic start
Stationary generators are built with automatic start systems that require no external intervention. If you're purchasing a standby generator for critical applications, it definitely ought to have an automatic start system.
⚡Dual fuel (or multi fuel) capability
Traditional single-fuel generators make up the largest portion of portable generators in the market but multi-fuel models (especially dual fuel generators type) are increasingly becoming popular.
With more fuel types to choose from, you're guaranteed never to be stuck when the primary fuel type is in short supply.
⚡Maneuverability
If a generator is somewhat bulky then it must have wheels for easier maneuverability. However, on some models, wheels are offered as an add-on and thus priced separately. They can cost more than $100 extra depending on many factors.
If you're buying a generator that weighs over 150 pounds, be sure that it has wheels. It's easier to move a wheeled generator without help than one without wheels.
⚡Build (compact or big)
When you're buying a portable generator, its build is another factor that influences maneuverability. You want a generator that's not too bulky and buggy to move around.
Luckily, portable generators are getting more compact as newer models are released onto the market. Some units come with built-in handles that make it easier to carry in one hand.
⚡Ease of maintenance
Never ignore the ease of access to maintenance for a generator before purchasing. Popular brands usually have easy access to parts and servicing but a generator from some obscure maker may be a nightmare to fix when it breaks down or just serves.
Generator Buying Guide 2022
The beginning of steam engines in the 18th century led to the discovery of generators. A massive loss of energy was observed during the operation of steam engines. The engines required a lot of heat energy to warm up the cylinders before starting to work and also needed a lot of water for cooling the system during its operation.
By then, James Watt discovered a more efficient energy conservation mechanism by combining it with rotatory motions in the working mechanism of the engine. On behalf of these concepts, generator development was made easy. Thereby the unit for power, Watt is named after James Watt.
The electrical invention was made easy by Michael Faraday in the early 18th century. The two great inventions of AC and DC generators were discovered by a scientist Werner Von Siemens from Germany.
Since these significant developments took place, the generators kept on evolving. Currently, the most advanced model of the generators is portable. The advanced generators are also equipped with an engine and thereby, named as engine-generator. They consist of a speed regulator, a fuel tank, a voltage regulator and an engine. They have a proper starting mechanism based on the battery.
Engine generators are available in various types. The most common ones are single-phase and three-phase engine generators. However, the hand-held portable generators can be started by applying a lash pulling mechanism. These generators operate by using petrol as fuel while the standby generators use diesel or natural gas.
The generators industry has evolved to the extent that an array of generators are available in the market including the portable generators, standby, inverter, dual-fuel, tri-fuel, solar-powered and propane generators.
The aforementioned generator types are discussed in detail below. Stay in touch till the end of this article to absorb the comprehensive knowledge and a complete guideline regarding the types of generators.
💡Portable Generators Buying Guide
Portable generators are particularly meant for camping and other outdoor activities like RV or campers and tailgating. However, they can also be used for home backup as an emergency generator.
They are mainly operated outside the house as they emit carbon emissions. The updated models of portable generators are available with a carbon shutoff feature which is eco-friendly and safer to use.
Portable generators are useful for people who love travelling. People living in remote areas usually face frequent power cuts and constant blackouts. In a situation like this, portable generators are the best solution overall, whereas standby generators are costly. Moreover, portable generators are equally useful for small scale businesses, construction sites, camping and events.
Portable generators are the widely used generators because of their power capabilities that range from 1,500W to 13,000W. Portable generators are preferable for multiple uses. They can be used to power a complete home during a power outage or to power specific appliances. Besides domestic use, they are equally useful for outdoor activities.
The portable generators are available in different models, making it harder to realize which one is the best portable generator. So this is why we have come up with this best portable generator guide so that you can find the complete information for buying the desired portable generator.
Portable generators are available in an array of weights and dimensions. Low wattage models of portable generators can weigh up to 60 pounds. However, high wattage models can weigh over 300 pounds. Regardless of the size of a generator, make sure you can move the generator without getting yourself injured.
Checking the noise level is one of the key factors to buy a generator. Unfortunately, all generators are noisy; however, the noise level varies among the models. Usually, the specifications of noise level are mentioned on the generators, and it is measured in decibels dB.
All portable models do not run on the same fuel type. They use a variety of fuels including gasoline, diesel, propane or natural gas. Few impressive hybrid dual-fuel generator models are also available in the market.
Dual-fuel generators give you an option to operate the generator either on propane or on gasoline. They are costlier, but the price gap between single-fuel and dual-fuel generators is not that big.
Not only the fuel type differs among the portable generators, but also the starting procedure is different for different models. Some need a manual pulling start, whereas some have a convenient electric start.
Cost of Portable Generators
Portable generators are comparatively inexpensive. The price of portable generators varies by quality, size and power capabilities. Generally, generators are available within a range of $300 to $1,000 whereas some models cost up to $3000.
Each generator also possesses a different running cost. It depends on the individual tank capacity and running hours. For instance, the WEN 56203i (2000 starting and 1700 running watts) generator has a 1,06 gallons (4 L) fuel tank that can continuously run up to 7 hours at 50% load.
Portable Generator Summary
Compact and sturdy
Inexpensive, $300-$1000
Gives a limited output of 1000 to 15000 watts
Runs for a limited time (6-12 hrs for one full filled tank)
Use a variety of fuels including gasoline, diesel, propane or natural gas
💡Inverter Generators Buying Guide
Inverter generators are also the portable generators that provide power for sensitive electronics. They are portable because of their compact size. They are also considered for outdoor activities like camping, tailgating, event management, and outdoor weddings.
Inverter generators are purposely built for generating AC electrical energy per rotation of an engine. However, electricity can not be used directly. It has to be converted into DC electrical power. Inverter generators are expensive because their engines are more complex than standard portable generators that give the same output. They range between $500-$4000.
Interestingly, inverter generators are quieter than conventional generators because they have a throttle system and don't need full power to function. Moreover, the sophisticated exhaust system is another reason for tamping down the noise of inverter generators.
Inverter generators are also becoming popular after the portable generators. The inverter generators are usable in many different ways. Inverter generators power the house but what makes them stand out is the ability to protect the appliances from burning.
How Inverter Generators Produce Power
The mechanism used in the inverter generator to produce electricity makes them different among the rest of the generators. Traditional generators use a motor for generating AC current that allows them to directly connect with the appliances.
The issue with this is the poor quality of electric current. Although the appliances can directly be connected however, the electrical components of the sensitive appliances will badly be affected by the poor quality of the current.
Inverter generators produce electricity in a unique manner. The alternator of these generators produces high voltage AC current which is later converted to the DC current. The DC current is then converted back to AC current.
This process is called inverting the current and it is essential to improve the quality of the current produced. The inverted current is cleaner and does not give unnecessary fluctuations. And Voila! Now you can connect your sensitive appliance without the fear of damaging them. Isn't it nice?
Other Benefits of Owning an Inverter Generator
Unlike the other generators, inverter generators have additional benefits. The electricity generated by the inverter generator is clean. The engine of an inverter generator runs at different speeds for controlling the amount of electricity required to power the appliances. It means, if the electrical appliance is plugged in, the motor of the generator will produce the electricity according to the requirements of that specific appliance. Therefore, it helps in reducing fuel consumption and ultimately it saves money!
Inverter generators are also the quietest generators excluding the solar generators. Traditionally, the noise level of portable generators exceeds 65 dB whereas inverter generators have a noise level of less than 60dB. Thereby, inverter generators are most definitely best to use for recreational activities.
Inverter generators are not only quiet, compact and lightweight but they can also be operated in parallel series. It means that if you have two inverter generators with the same specifications they can be connected together to generate double power.
So what's the downside? Well, unfortunately, the main drawback is the price. All the amazing features they have tend to make them more expensive than their conventional counterparts.
A sound entry-level 2000W model will cost you around $1000. While this may seem like a lot, you have to remember that with their more efficient fuel-saving engines, you will save in the long run.
Inverter Generator Summary
Also portable generators
Quieter than the conventional generators
Expensive, $500-$4000
Best for sensitive electronics
💡Standby Generators & Standby Generator Buying Guide
Standby generators are the most expensive ones compared to the rest of the generators and range from roughly 5,000 to 20,000 watts.
They should be installed by professional workers that require additional labor costs. Standby generators need a professional electrician for dealing with municipal committees and noise restriction laws of the town.
Once the power goes out the standby generators start automatically while supplying surplus power than the rest of the generators. These generators are capable of letting the users know when maintenance is needed.
These generators are operational under the fuel of your choice including propane, which is less risky to store than gasoline, or natural gas, that provides an unlimited supply of power.
Standby Generator Summary
Installed permanently
Start automatically when power is out
Require highly professional electricians to install
Generate high power (over 20000 Watts)
Can run on diesel, propane or natural gas
Very expensive
Constantly monitors the utility power
💡Dual Fuel Generators & Dual Fuel Generator Buying Guide
Dual fuel generators are capable of using two different types of fuel (diesel and natural gas) at the same time.
The two usable fuel types mean you have an option to choose in case you run out of diesel or natural gas. These fuels can either be combined or can be used separately depending on the quality of the engine and the requirements.
In most of the cases, diesel is preferable for starting a dual fuel generator because diesel has a lower ignition temperature than natural gas. The power output varies according to the fuel type. Each fuel type has two power settings, a higher one for diesel and a lower one for natural gas.
Why Choose A Dual Fuel Generator?
Dual fuel generators are not only portable but also offer you the advantage of using two fuels, either gasoline or propane. This is ideal because both fuels have different benefits.
Both fuels have different storage requirements. Gasoline has a shorter life than propane and it can only be stored for a year. Whereas propane can be stored for more than a year, allowing you to stock the fuel in case of power outages. Meanwhile, you can use gasoline for short term requirements.
If you live in an area where weather events cause power outages regularly, you are better protected with a generator that can use propane. The reason being, when the power goes out to service stations no longer have the power they need to pump gasoline. This makes getting gasoline during a power outage very difficult. Propane, on the other hand, can still be purchased regardless of the power grid status. It can even be delivered to your house.
Dual Fuel Generator Summary
Uses two fuel types
Natural gas is eco-friendly
Gives a maximum power output
Power output varies according to the fuel type
💡Tri-Fuel Generators & Tri-Fuel Generator Buying Guide
Tri-Fuel generators are also called Triple-Fuel generators. They operate by using either propane, natural gas or gasoline. Propane is a convenient option as it can be stored for a longer time span and it is also readily available than gasoline during power shortages.
Tri-fuel generators use carburetors for functioning. The advantage of a carburetor is that it does not clog and makes it easy to change the settings of the fuel. These generators are also equipped with a fuel selector knob to serve the same purpose.
Tri-Fuel Generator Summary
Also called Triple-Fuel generator
Uses three fuels mainly, liquid propane, natural gas, and gasoline
Equipped with carburetors to prevent clogging and for changing the fuel settings
💡Solar Generators & Solar Generator Buying Guide
The solar-powered generators use energy from the sun to generate power and to supply the power to other electrical equipment.
Any device powered by solar energy is unable to stand on its own in most of the cases because the power cannot be supplied rapidly. Therefore, an extra battery or any other energy source is a must to use in combination with solar energy for powering electrical appliances.
Solar generators are quieter and do not require fuel to operate. They are good for providing power to the appliances that don't consume a lot of power especially, in remote areas. In case a severe power outage occurs, solar generators are not as good as other generators to serve the purpose.
Silent operation of the solar generator makes it usable for hunting and fishing activities. Another advantage of a solar generator as compared to the diesel or petrol generator is that you don't have to worry about stale fuel even if the solar generator is not operational for a longer time.
Solar generators consume sunlight and produce clean energy but they are highly expensive. Solar generators have a unique advantage unlike the rest of the generators. Solar generators can be connected to your power grid to cut your electricity bill. They can almost be used for 24 hours but they are weather dependent.
How do solar generators work?
Solar generators are generally made up of three components:
The solar panel, also known as the photovoltaic module, is what captures the heat energy from sunlight
A battery to store the energy produced by the solar panels
An inverter that converts the stored energy in the battery from direct current (DC) to alternating current (AC). The inverter will include at least one AC output, a 12 v output, and often a USB port allowing you to plug in your device(s)
What are the benefits of using a solar generator?
The most significant advantage of using a solar generator as opposed to a generator that uses fossil fuel is that it is clean energy. Not only do they produce no carbon emissions, but they also do not produce any exhaust fumes. This means you can relax knowing that your family is not inhaling any toxic fumes. It also means that you can use the generator much closer to your house or even on a balcony if you live in an apartment.
Furthermore, while fossil fuel generators have large fuel storage requirements, solar generators do not. Another benefit is their lightweight portable nature providing you with extra flexibility. They also produce their energy with little to no noise, making them a great choice if you are looking for the quietest generator.
Finally, as the running costs are negligible, you are able to use solar generators as often as you wish providing the weather allows for it. This has the potential to significantly impact on your utility bill. Some models will even connect directly to your grid, meaning your home automatically uses the available solar power to reduce your standard power usage.
Considerations when comparing solar generators
There are a few considerations to make when selecting a solar generator.
Firstly, you will need to consider your power requirements. To establish your total wattage requirement, you will need to consider how many and which appliances you wish to power using the generator.
Generally, solar generators offer lower wattage capabilities than portable generators, ranging from low wattages less than 100W which you may only use to charge your mobile devices, to at the high end around 1200W which is sufficient to power a few standard household appliances.
You may want to consider the dimensions and weight of the generator. If you want a higher degree of flexibility you may want a smaller model which is easier to move around. However, this will likely influence the wattage the generator will be capable of producing.
A further consideration is whether or not a battery is included within the generator or kit. While some models include a battery, others do not which means unless you purchase a battery separately (recommended), you will not be able to store any energy and will only be able to use the generator during sunlight or daylight hours.
Batteries will also vary in their charging time. You don't want to be left stranded in the dark because your battery needed more time to fully charge. The charging time will also be affected by the size of the panels connected to the battery.
Finally, the output options will vary from model to model. Usually, the output will be available in the forms USB, 12v and AC outlets. You should ensure that the type and number of outputs match your needs.
How much do solar generators cost?
The price varies according to the model, the wattage produced, and what's included in the kit. A basic 100W starter kit will cost around $200, while a 1200W comprehensive kit will cost around $3000. However, it's important to take note that this is just the upfront capital investment. Once set up, the ongoing costs are negligible as you require no fuel and little maintenance. Therefore solar generators offer a cost-effective solution to your power needs.
Solar Generator Summary
Solar generators are the quietest generator type
They do not require fuel to operate
They are good for providing power to the appliances that don't consume a lot of power
💡Propane Generators & Propane Generator Buying Guide
Propane is a clean-burning fuel and Propane gas is the by-product of natural gas called Liquefied Petroleum Gas (LPG).
A propane generator functions on the same principle as any other generator for generating electricity. It converts the energy produced from the combustion of propane to the electricity. The propane generators require less maintenance, making them more reliable and durable.
Coming to the portable and standby forms, the use of propane as a fuel has several benefits when compared to other fuel sources. This article outlines the considerations you should make when in the market for a propane generator. This includes the purpose of the generator, power requirements, pricing and a comparison between propane and gasoline. To boost your decision making consider our best propane generator reviews.
Considerations to make when choosing a propane generator
Propane generators come in two forms, portable and standby. Portable propane generators are much more popular and so is the focus of this page. If you are in the market for a standby generator, refer to our standby generators page.
Portable propane generators give you the ultimate flexibility. You can use them at home, at a work site or recreationally. For the range of power capabilities, you need to assess your usage requirements. The best way to do this is to decide which appliances you wish to power. You can then calculate the total wattage requirement by adding each appliance's wattage use.
This information can be found on all appliances. Naturally, you may also want to consider the cost of the generator. Models with smaller power capability will start at around $300 while the larger more powerful models will cost you around $1000.
Advantages and disadvantages of propane vs gasoline
Using propane instead of gasoline as a fuel source has several advantages. Propane is a much cleaner fuel. It doesn't produce the toxic exhaust fumes that gasoline does, protecting not only you and your family but also the environment. This can be highly beneficial if you need to use your generator for extended periods.
Propane has different storage characteristics to gasoline. It is very hard to spill and even if it does for some reason, it will evaporate very quickly. The shelf life of propane is significantly longer than gasoline. Whereas gasoline generally needs to be used within a year, the only regular storage maintenance with propane is to check the condition of the actual tank. A major benefit is a fact that propane can still be obtained during a power outage.
Gasoline pumps need electricity to function, so if you are caught in a long term power outage you may have trouble restocking your gasoline supply. This means that when using a gasoline generator, you generally need to stock up on fuel in advance and store it somewhere at home. With a propane generator, you can relax knowing that you can still purchase fuel if you run out. Conveniently, you can also have propane tanks delivered to your home.
One drawback of a gasoline-fueled portable generator is the noise they produce. They can be very noisy often exceeding 70 to 80 decibels. Propane generators offer a more quiet solution.
While they do have many advantages, they do also have disadvantages. The propane fuel system is more involved and complex than a regular gasoline system. What this means is that they have a higher chance of breaking down. Further, if they do breakdown they can be hard to fix. This tends to reduce its overall lifespan.
While generally, they are safer generators then gasoline models if the fuel lines break they can be very hazardous. You may also want to consider that the tanks are pressurized cylinders full of propane which is a highly flammable gas. While the storage requirements are more minimal than gasoline, what may deter you is that the tanks are quite large and may not be the most appealing to the eye.
Finally, the climate in which you live may affect your decision as a propane generator will not function correctly below -20 degrees Fahrenheit.
There are a few considerations to make when purchasing a propane generator. Influential factors include the intended use, the power requirements, and your budget. Given the benefits and drawbacks of using propane instead of gasoline as fuel, you may want to consider a dual fuel generator.
These hybrid models allow for easy switching between fuels. This provides the flexibility you need and gives you the advantages of both types of fuels. To help with your decision, consider our propane generator reviews.
Propane Generator Summary
Propane generators require less maintenance
They are durable and more reliable
Gives long-lasting performance
---
Comparison of Generator Types
Generator
Types
Best for
Key Features
Portable Generators
→ RV

→ Camping

→ Events
→ Compact design, high maneuverability

→ Gives a limited output of 1000 to 15000 watts

→ Runs for a limited time (6-12 hrs in general)

→ Work with a variety of fuels including gasoline, diesel, propane or natural gas
Inverter Generators
→ Home Use

→ Car batteries,

→ Laptops

→ Sensitive machines that require a stable electricity
→ Portable

→ Quieter than the conventional generators

→ Most expensive after standby generators

→ Best for sensitive electronics
Standby Generators
→ Emergency settings,

→ Hospitals,

→ Governmental buildings,

→ Sensitive buildings/machines that require continuous electricity
→ Installed permanently

→ Start automatically when power is out

→ Generate high power (over 20000 Watts)

→ Most expensive generator type
Dual Fuel Generators
→ Considerable option for people living in rural areas as might be lack of a fuel type
→ Work with 2 different fuel types
Tri-Fuel Generators
→ Considerable option for people living in rural areas as might be lack of a fuel type
→ Work with 3 different fuel types (propane, natural gas, and gasoline)
Solar Generators
→ People that live in equatorial climate (or near) prefer as most of the days in a year is sunny
→ Quietest generator type

→ No need to fuel to operate
Propane Generators
→ Preferable for everyone as propane is a widely used fuel in the world
→ Require less maintenance

→ Durable
💡Factors to Consider For Buying A Generator
There are many features to consider before buying a generator. Following are a few of the most essential features we can suggest you to buy a generator:
1. Choose A Known Brand
A brand is an important factor for buying any mechanical equipment mainly because brand positioning is a key factor for keeping acquiring loyal customers. Therefore, a similar concept is applicable to buy a generator.
2. Calculate Your Wattage Requirement
Wattage requirement means how much power a generator can generate. It is another key factor because the power requirements of electrical appliances differ from each other. In most of the cases, there is a direct relationship between the size of the generator and the power capacity.
3. Consider Noise Levels
Smaller generators are usually quieter. However, the decibel rating is mentioned on most of the generators. The decibel rating simply works on a concept that increases in 10 decibels will increase the noise level ten times. Any generator that runs at 60 decibels is ten times louder than the generator that runs at 50 decibels.
4. Prefer Multi-Fuel Generators If You Need
Single-fuel generators are the most popular one among the types of a generator. However, dual-fuel generators and tri-fuel generators are increasingly becoming popular in the market. A multi-fuel generator guarantees to keep working even if the generator runs out of the primary fuel type.
5. Maneuverability Matters
Maneuverability means the portability of a generator. Portable generators are used for outdoor fun and for construction sites and mainly when you frequently have to move the generator. To serve such purposes a sturdy or a standby generator is of no use.
6. Look for Built-in Safety Features
The built-in safety features are a must for safeguarding the user and the engine of the generator. For instance, automatic shut-off feature, low-oil sensor and temperature, and pressure sensors are a few of the features to prevent damage.
7. Fuel Type
Different generators run on different types of fuel. Gas generators, by far, are the most common ones. However, diesel generators offer a high fuel efficiency but demands for a regular upgrade because it clogs the carburetor. A propane generator or a gas generator is another eco-friendly option to look for.
8. Size of Fuel Tank
The size of the fuel tank determines the capacity of the fuel tank. It means, the bigger the fuel tank the longer the time required for refueling. Most of the fuel tanks of generators give the run time of 7-9 hours at a maximum load of 50%. Although a larger tank is preferable to use, however, it will be heavier with a full tank.
What is the best portable generator size for me?
The easiest way to determine your wattage requirement is to write a list of all the appliances you want to power. You can then establish what each appliance will need in watts (this information should be displayed somewhere on every appliance), and then add it all together. Now you should have a total wattage requirement which is the minimum needed from your generator.
Note that all generators will have two wattage ratings: 'rated' or 'running', and 'maximum' or 'starting'. Assuming that you will not turn on each appliance at the same time, you can use the 'rated' or 'running' wattage as this is the amount the generator will produce continuously over a time period.
The 'maximum' or 'starting' rating is just the additional power it creates at start-up which only lasts a few seconds. It's always a good idea to pick a generator that will give you some extra power to allow for the 'starting' wattage requirements, as well as any other unforeseen power requirements.
If you decide that you want the ability to power your entire house you will need to reference your utility bill history or contact your utility company directly to establish how many watts you need. Keep in mind your watt usage will vary throughout the year seasonally.
9. Electric Start Feature
Electric start engines are fantastic but are on the expensive side. Mostly, portable generators make use of lead-acid batteries.
10. Electronic Fuel Injection
EFI (Electronic Fuel Injection) is a spectacular feature. This feature eliminates the need for a carburetor. EFI also makes it easy to start the generator in freezing weather.
11.Wheel Kit
Not all the generators are equipped with a wheel kit. Although you can get a wheel kit separately, however, it's preferable if you buy a generator with a wheel kit.
12. Lift Hook Bar
A generator for commercial or industrial use should be equipped with a lift hook bar because there are definite chances you'll need to lift the generator to a higher floor. A generator with a hook bar saves time and it's more portable.
---
Practices for Further Care and Maintenance of Generators
Maintaining a generator requires routine maintenance, annual, semi-annual and quarterly maintenance for enhancing the durability, reliability, and efficiency of the generator.
Routine maintenance encounters a general inspection routine. The inspection involves checking for leaks, checking oil and coolant levels, assessing the belts, hoses, battery terminal, and cables. However, there is still a need for detailed generic maintenance which is mentioned below:
Frequent oil changes are required depending on the usage of the machine. Normally, the oil needs to be changed if it is used for more than 100 hours.
Fuel cleaning by using biocides.
Monitoring the cooling system for radiator air restriction, hoses, connections, fluid concentration, belts, and louver operation.
Frequently checking the battery power.
Regular testing to stay aware of the current status of the battery.
Controls like a voltage regulator, wiring, relays, monitors and bulbs also need regular maintenance.
Exhaust system for leaks, chokes and flush condensation cap.
Electrical system to review meters and batteries to be recharged, if required.
Transfer switch for time delays and exerciser clocks to be adjusted or reset.
Air cleaner, turbocharger, muffler, traps.
As an Amazon Associate we earn from qualifying purchases.