Summary
Thinking about investing in the Yamaha 2000 generator? You're onto something good.
The Yamaha 2000 generator is one of the most popular portable generators in the 2000 watt range. This generator is tailor-made for campers, tailgaters, and RV enthusiasts. It is lightweight, portable, and delivers just enough power to help you get by comfortably in the wilderness.
Better yet, the latest version of the Yamaha 2000 generator – the EF2000iSv2 – is equipped with a brand new controller that allows the unit to work harder without straining (we'll get to this in more detail later). This means that you can load more applications and the EF2000iSv2 will hold up.
There's a lot of good stuff going for this little powerhouse and while it has some formidable competition from the likes of the Honda EU2000, the EF2000iSv2 holds up well.
We're going to take a detailed look at the Yamaha 2000 generator series in the rest of this post.
Yamaha 2000 Generator: What's the Difference Between the Models?
The original Yamaha 2000 generator is the EF2000iS. There are two newer upgrades in the series – the EF2000iSv2 and the EF2000iSHv2, with the former being Yamaha's most popular inverter generator.
Currently Yamaha only lists the EF2000iSv2 and EF2000iSHv2 models in its lineup.
The newer models feature a revamped controller board that extends the unit's run time at maximum AC output before it overloads. This is the major difference between the older EF2000iS model and the newer models, the former only managing 20 seconds at maximum output before it overloads.
With the new controller board, the EF2000iSv2 will run for up to 13 minutes before overloading. The biggest advantage in this is that you can run more loads that cycle at the same time. For instance you can connect a ⅓-HP sump pump (requires surge wattage of 1300 watts) and once it is running (at 800 watts), you connect another appliance that requires 1200 surge wattage to start.
This way, the EF2000iSv2 will run at peak output momentarily without overloading until all the loads have cycled to their running wattage.
If you have the older EF2000iS model, you can run it in parallel with the EF2000iSv2 and double the maximum output (on paper at least). However, the downside is that you cannot run the parallel unit at maximum output even though you'll have more watts at your disposal. This is because in parallel mode, the V2 controller runs like the original EF2000iS.
Regardless of the new controller board's capabilities, avoid overloading your portable generator. If the unit runs regularly at overload (even though it can handle for a few minutes), any of these things may happen:
Engine overheating
Alternator overheating. This could result into burn out of the windings.
Inconsistent oil pressure and eventual engine failure.
Ultimately these things can lead to the generator's lifespan shortening.
Yamaha 2000 Portable Generator: Dimensions and Weight
The EF2000iS measures 19.3 x 11.0 x 17.9 inches (LxWxH), which translates into one square foot on the floor whereas it stands one and a half foot high above the floor. According to Yamaha, you need about 2.2 cu. Ft of storage space for the EF2000iS, which makes it a breeze to store and transport the unit.
Without gas, the EF2000iS weighs 44.1 lb and roughly 50 lb when gas tank is full. This is pretty light for the average user.
One of this unit's best selling points is its portability. In addition to being lightweight, the EF2000iS features an ergonomic built-in grip handle that makes the generator look like a small luggage. It's easy and comfortable to hold, so you can haul it from place to place with ease.
The EF2000iSHv2 is the exact same size as its predecessor but features a proprietary RealTree camo design, perfect for camping and tailgating scenarios.
Where to Use the Yamaha 2000 Generator?
As already hinted, the yamaha 2000 generator is as portable as they come. Thus, from the outset it's clear who the intended customer for this unit is – the campers, tailgaters, hunters, RV affionacios, and just about any outdoorsy person.
With the EF2000iS, you can take the comfort of home with you on your adventures without the noise and clunkiness.
The inverter technology that the EF2000iS uses makes it ideal for charging delicate iPads, laptops, smartphones, and other sensitive electronics. Think of a great adventure far away in the woods but as a necessity, you carried your cell phone and a couple other electronics with you; the EF2000iS will keep your devices charged but more importantly, they'll be safe from damage.
Obviously the EF2000iS isn't the generator to use at a construction jobsite where the typical load size is 8000 watts.
Power Output
The EF2000iS is powered by a capable 79cc OHV 4 stroke engine that's powered by unleaded gas. The engine features cast iron cylinder lining that provides excellent heat dissipation. This way you get smooth running all the time, along with an extended lifespan.
Like all Yamaha inverter generators, the EF2000iS has excellent emission durability ratings based on the CARB and EPA engine emissions durability standards.
Maximum output for both the EF2000iS and the EF2000iSHv2 is 2000 watts while the rated output is 1600 watts. This means you can only power a handful of appliances at a time, but that's fine considering that this is not a heavy duty generator; is built to meet a specific need.
That said, you can always get extra power from your 2000-watt generators thanks to the parallel function that allows you to connect a second generator. With a parallel setup, you can extract up to 30 amps.
DC output is 8 amps at 12V. You get a whooping 10.5 hours of continuous run time at ¼ load. Full tank capacity is 1.1 gallons.
Noise Level
No products found.
For heavy duty power generation that runs critical applications, a lot of people are willing to withstand noise from big generators. However, for smaller power needs, noise is a big issue and a deal breaker in many instances.
Thankfully, Yamaha 2000 generators are low on noise. The EF2000iSHv2 in particular has the most advanced sound muffler Yamaha has ever built, according to the company's own statements.
The official rated noise level is 51.5 decibels (dBA) to 61 dBA, which means you'll have a conversation near a running Yamaha EF2000iS and you won't realize that it is running.
But the advanced sound muffler fitted on this unit isn't the only reason for its impeccable low noise levels. Yamaha cleverly uses a range of noise reduction techniques to ensure noise levels remain low. For instance the EF2000iS features a sound-absorbing glass wool design and vibration-absorbing stands that help to maintain low noise levels even when the generator is operating at heavy loads.
Having said that, it's worth noting that actual noise levels may be higher than the rated values depending on several factors.
Fuel Consumption
Generally, Yamaha inverter generators are not fuel guzzlers, thanks to the new smart technology incorporated in them that's designed to increase fuel efficiency.
The EF2000iS series in particular are impressively fuel efficient. In economy mode, the unit can pump out power for 10.5 hours continuously at 25% rated load on just 1 gallon of gas. There's a handy fuel gauge that allows you see the fuel level at a glance.
All Yamaha models in this series are equipped with the proprietary Smart Throttle feature that automatically adjusts the engine's rev speed to match the current load. That is to say the rev speed (rpm) increases as load increases and decreases when there's fewer loads. This automatic rpm adjustment results in both better fuel efficiency and reduced noise.
The generators have a gas petcock that lets you shut off the gas supply and run the unit dry before you can store it. This will drain all the fuel out of the fuel tank and the carburetor.
As you may know, storing the generator dry prevents the Ethanol-based gasoline from gumming things up, which causes residue that tends to clog some orifices in the engine, which may result into inconsistent fuel metering when you use the generator again. Ultimately your carburetor can be damaged because of this.
Unleaded gasoline – with octane rating 86 – is the standard fuel type used in all Yamaha 2000 generator models.
As for the oil, a new unit does not ship with any so you need to add new oil as soon as you unbox the generator from the packaging. You need 0.42 quarts of either SAE 10W30 or 10W40 oil types.
While there's no harm in getting only the required amount of oil, it's wise to have a little extra on hand.
Yamaha recommends its own Yamalube 10W40 oil because it is tailor made for Yamaha engines.
How Easy Is It to Operate and Maintain the Yamaha 2000 Generator?
No products found.
Yamaha makes it easy to control and operate its generators. These models are equipped with a centralized control panel that allows for easy access to all controls. Most of the controls are as easy to operate as turning a knob or pushing a button.
The control panel on both the EF2000iSv2 and the EF2000iSHv2 is identical. The panel is conveniently located on the front right side of the unit for easy display and access.
Atop the panel is a row for the warning lights. The low oil warning light, connected to the unit's oil watch warning system, will flicker when oil level is below the minimum for safe operation. The system will then shut off the engine automatically to prevent engine damage due to low oil.
The panel also includes an overload indicator light in case you overload the generator. The AC pilot light indicates output when the unit is in operation.
The EF2000iSv2 uses a pull rope start-up mechanism. The on/off switch for the engine is prominently placed just below the warning light. The fuel cock knob is placed right beside the startup choke. Before starting the engine you need to open the fuel cap vent and close it when shutting off.
For the outlets, you have a single 12V DC receptacle and two AC outlets. There's also the Twin Tech outlet that allows you to connect a second Yamaha unit in parallel to boost total output to a maximum of 30 amps.
Finally, you have the earth terminal for connecting to an electrode in the ground. This is a safety measure that protects you as well as the machine.
Starting the generator is by means of the pull rope but the whole recoil pull method is much improved due to increased responsiveness. This is in turn made possible by the auto-decompression system integrated into the unit: it essentially keeps compression at the bare minimum, which makes the startup effortless.
Typically, a single pull should get the generator started. Many users claim that they never exceed three attempts before the generator starts.
Here's a basic step-by-step startup procedure you can follow:
As a prerequisite, check to ensure the economy control switch is not on and also be sure that vent cap knob is open. The fuel cock knob should be on as well.
Switch the engine on (turn it to red).
Give the choke knob one gentle pull.
Give the recoil starter one sharp upward pull. Repeat if generator doesn't start.
Once the generator is running and starts to generate heat, push the choke back inside.
When the generator is running steadily and has warmed up sufficiently, turn on economy mode.
To shut down the unit, switch off economy mode first and then remove all loads. Turn off the fuel cock but you can let the engine run to dry out the gas tank. Switch off the engine and then turn the fuel cap air vent off as well.
What to Know About Usage, Care, and Maintenance of the Yamaha 2000 Generator
No products found.
Like already stated, the Yamaha EF2000iS models have a built-in handle that's easy to use and ergonomic. That means the proper way to move the unit is by carrying it by the handle and not any other way.
Never touch the unit in wet conditions if it happens to be running, such as when your hands are wet or when it's raining or snowing.
Most importantly, the unit must be operated from an open space. Never run it in an enclosed space. There should be adequate airflow to allow for easy cooling and dispersion of exhaust gases.
If you're going to connect a second generator in parallel, follow the guidelines in the manual.
Maintenance:
Like all power motors, you must carry out maintenance for your Yamaha 2000 generator periodically. Yamaha includes a basic maintenance guide in the manual that you can follow.
There are basic checks for all generators before every run: check the fuel level, oil, the hose, and generally ensure that the unit is intact. Generally check to see that the unit is in good shape before starting it up.
Periodic maintenance mostly entails the following:
Replacing engine oil
Since this is an air-cooled engine, it means that it burns through oil pretty fast. As such, you're going to need to do a top up every time the unit has run for more than 9 hours constant. If you run it daily you need to top up the oil every time you refuel.
Safety Tip: Let the unit cool down before refueling or adding oil.
Most new people to portable generators are surprised when the unit stops working after a couple of days of running. This is probably due to oil being used up.
Many new units now come with automatic low oil sensors that shut down the unit when oil levels hit a bare minimum.
If your new unit suddenly stops running, first thing to check is the oil.
Replacing oil filter
As I said in the previous section, if you're using your generator quite heavily, it's important to top up the oil frequently (to avoid shutdowns when oil is low). A full blown oil change is not needed in those circumstances.
That being said, a full oil replacement is mandatory once you clock 100 hours of running. 100 hours is the standard for most portable generators below 20,000 watts.
A complete oil change also requires replacement of the oil filter, air filter, and spark plugs. The process goes like this: drain all the stale oil, replace the oil filter with a new one, add new oil, and then replace the air filter and spark plugs.
Replacing the fuel filter
Replacing the fuel filter is seldom done, normally once a year or at the 300 hour mark of use.
You should also check the breather hose to ensure it's still in good shape; otherwise replace in case of cracks.
Pro Tip: Only buy genuine Yamaha parts from an authorized dealer. Fake parts not only void your warranty but may also cause more damage to your generator.
Cleaning and general care
For most portable generator owners, maintenance entails the things listed above. What most people tend to overlook are things such as cleaning and checking internal parts.
It's not mandatory to clean the cylinder head or rotor, for instance, but removing residue from the cylinder and cleaning the rotor and stator once in awhile will keep your generator in pristine condition. A buildup of debris and contaminants on these parts can accelerate their wear and ultimately limit the generator's potential to generate power.
You should also check all fasteners and fittings to ensure they are not loose.
Pro Tip: If you're not going to be using the generator in a while, it's important to perform these maintenance steps on it. You will need it to be working smoothly the next time you bring it out, especially in an emergency.
With all that said, the user manual should be your primary reference whenever you're going to do maintenance on your unit. Yamaha (like all other great manufacturers) offers some brilliant maintenance tips for all its generators, especially regarding safety during use, maintenance, and storage.
Warranty
No products found.
All the Yamaha 2000 generator models come with a 3-year warranty for personal use. The warranty is valid from the date of purchase but you need to first register your purchase to validate your warranty here.
Obviously there are terms and conditions that keep your warranty valid. I'll list a few important ones here:
You must register your purchase.
The portable generator must be for private use and must be purchased from an authorized Yamaha dealer located within the continental United States. If used for commercial purposes, the warranty period will be a maximum of two years (one year in some cases).
The warranty covers a faulty unit due to defective materials (or workmanship) of the original parts.
It's up to the Yamaha dealer to determine whether or not a faulty unit is a result of a defective part due to poor materials or workmanship. If so determined, the unit is fixed (or parts replaced) at no cost to the buyer.
Your Yamaha warranty excludes faults or failures as a result of using parts and accessories that do not qualitatively match the quality of genuine Yamaha parts.
The warranty also excludes faulty parts as a result of improper use such as poor or no maintenance, negligence, abnormal strain, collisions, and accidents.
Obviously parts replaced due to normal wear are also excluded in the warranty.
Yamaha doesn't have as large a network of service points as some other big brands. This may result in higher than normal expenses when you need to visit a service point.
Cost of the Yamaha 2000 Generator
As of this writing, all Yamaha 2000 generator models were selling for under $1300, with the EF2000iSHv2 being the priciest.
Admittedly this is not the most pocket friendly price for a 2000-watt generator but you're getting top notch quality here. You're also paying a little extra for the reliability that Yamaha power tools have come to be renowned for.
Besides the quality of the brand, another factor that likely contributes to the price of this unit is the inverter technology it uses. Inverter generators tend to cost slightly more across the board compared to their conventional equivalent.
There are obviously other factors that contribute to that price: the specially designed sound insulating construction, the advanced sound muffler, and the automatic safety systems built into the unit are all likely to determine the price.
In the end, you pay a little more for quality and efficiency. There are so many generators that are hurriedly thrown together to generate watts, which ultimately end up being unreliable. Yamaha generators offer more than just power generation.
If you're planning to use a portable generator quite often then it makes sense to splurge a little bit on a high quality unit. The Yamaha 2000 generators are well rounded, all season power machines that you can depend on, either for one-off emergency power generation or for frequent use.
That said, there are cheaper options to consider if you only need emergency power generation for a couple of times a year. Regardless, my review team and I strongly vouch for this range of Yamaha generators for a range of uses.
What Should I Know Before Buying the Yamaha 2000 Generator?
No products found.
Before buying the Yamaha 2000 generator – and indeed any other portable generator – you need to consider the accessories needed. Some are part of the original purchase and ship with the unit but many others are bought separately.
What are some of the accessories you may wish to have when purchasing this unit?
Oil – You have to purchase filler oil separately as a new unit doesn't come with any.
Power Cord – When it comes to it, you'll need to reach your appliances wherever they are, inside the house or far beyond the noise area.
Gas can – For storing your gas. Should ideally be CARB compliant.
Funnel – For mess-free oil and fuel refilling.
An adapter
A cover
Twin tech cable for connecting two units in a parallel setup
Yamaha 2000 generator: Pros
In terms of portability, this unit is hard to beat. Most buyers give the Yamaha 2000 generator revving reviews for being lightweight, portable, and easy to maneuver.
It is very reliable. When cared for and maintained properly, the Yamaha 2000 generator can always be relied on to generate power on a whim.
It is very quiet. The unit features one of the most advanced sound mufflers in a portable generator. At low loads you can as well assume it isn't running.
The generator's economy mode maximizes fuel efficiency and saves on fuel costs in the long run.
It is easy to operate and maintain. The starting process is now easier than ever even for inexperienced users.
Can handle more loads at the same time. The newer EF2000iSHv2 model can handle up to 2000-watt loads for a specified moment before overloading.
It is aesthetically more appealing. The newer model comes with an attractive RealTree camo design that blends in perfectly with the outdoors scene such as at a campsite.
The unit is fully CARB compliant.
Yamaha 2000 generator: Cons
It is expensive. Retailing at a little over $1000, the Yamaha 2000 generator is definitely on the high end of the price scale. However, you are paying for quality here. If you find it for under $1,000 it is a great buy.
The generator's design makes it hard to access internal parts. The unit's construction is intended to minimize noise but can be a pain when you need to access the engine's internal parts. You need to carefully remove the casing before you get inside the engine.
The automatic low oil shutdown feature can also mean unnecessary interruptions. Thankfully this is easy to remedy: top up the oil often.
Conclusion
The Yamaha 2000 generator is a reliable power unit that goes an extra mile.
There are 3 Yamaha 2000 generator models including the original EF2000iS, the EF2000iSv2 and the EF2000iSHv2, but Yamaha currently lists only the two newest models.
You'll fork out roughly $100 more for the EF2000iSHv2 model in exchange for a couple of upgrades. Most notably, the EF2000iSHv2 features a completely revamped controller with advanced programming that allows the generator to manage loads of up to 2000 watts for 13 minutes before overloading.
What's the advantage in this? You can load more appliances at the same time (that don't exceed surge watts of 2000) and the generator will still pump out power.
One of this unit's most attractive features is its low noise level rated at only 51.5 decibels on the lowest end. It also features an easy-to-use push button control panel that makes it easy for newbies to operate the unit.
The Yamaha 2000 generator powers the majority of small home appliances with ease. It's the perfect generator for camping, tailgating, and adventure, among other outdoor uses. Since it makes use of inverter technology, the Yamaha 2000 generator is ideal for sensitive electronics.
It is definitely limited in power if you want something for a construction jobsite, for instance, but for what it was designed to do, it is a highly reliable portable generator.
No products found.
Yamaha 2000 Generator Specs at a Glance
| | |
| --- | --- |
| Generator type | Inverter Generator |
| Surge Watts | 2000 watts |
| Running watts | 1600 watts |
| Engine | Single cylinder air-cooled 4 stroke OHV engine |
| Rated AC Current | 13 /16.7 amps |
| Displacement | 79cc |
| Full tank capacity | 1.1 gallons |
| Running time at ¼ load | 10.5 hours |
| Weight without gas | 44.1 lb |
As an Amazon Associate we earn from qualifying purchases.
YAMAHA EF2000iSv2 Review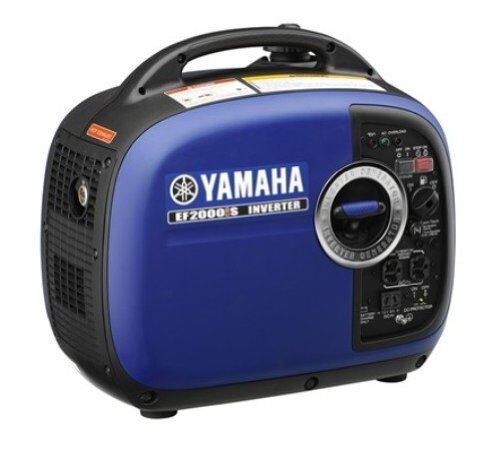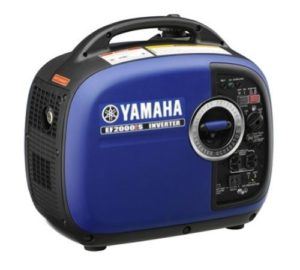 Product Name: YAMAHA EF2000iSv2
Noise

Maintainability

Maneuverability

Reliability

Value