Choosing between Honda vs Yamaha generator is a big challenge. Both are leading brands and popular names which most buyers find very efficient and reliable. These Japanese generators come with a lot of features that easily places them well ahead of other competing brands.
How does one make a choice between these two brands? We will have to put both Generators side by side and consider some of their major strong points and possible weaknesses. For the purpose of this general comparison, we will consider a popular model, the 2000-watts inverter generator model from both Yamaha and Honda and see how they perform against each other. Here are some important factors you can base your comparison on when faced with a choice between these two super generators.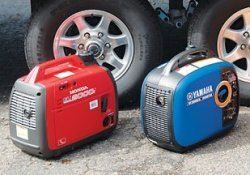 Power:
In terms of power generated by these two efficient machines, we can give call it a tie. Both Yamaha and are famous for making highly effective generators which generate stable pure sine wave power output. For both models, the maximum output, as well as continuous output are equal to each other.
Weight and Size
This is another factor you can base your comparison on. However, this varies from one generator to the other. For the 2000 watts' capacity generator which we are focusing on, the Yamaha weighs a kilo lighter than the Honda. This is not the same for other models. The 3000-watt generator from Honda, for example, weighs less than that of Yamaha.
Size, just like weight varies from one generator to the other as well. Both of these factors are important especially when you are looking at a generator that will be moved around so often during its usage. From some of the heavier models from Yamaha, the company complements for the higher weight by adding inbuilt tires for added mobility.
Honda vs Yamaha Generator Efficiency
While you have nothing to worry about when it comes to the efficiency of these two brands, it seems we have a winner in this Category. Most Generators of the same power rating from Yamaha vs Honda usually have the same tank capacity. However, most performance tests and reviews usually show Yamaha just slightly more efficient than Honda. For the 2000-capacity generator mentioned earlier, Yamaha's runtime is 4.2 hours slightly higher than Honda's 4 hours. The same is true for the 3000 watts' models where Yamaha also wins with 20.5 hours over Honda's 20 hrs. however, this might vary for other models so be sure to check and compare for the two generators before you make a purchase.
Maintenance:
Yamaha also takes it home once again in terms of how often you have to take it in to get a check up. It is recommended that after using your Honda generator for more than 300 hours, you have to take it into a shop to have the exhaust chamber cleaned up. But for the Yamaha, you simply need to give it a head cleaning after using it for the same period of time or once every year.
Noise Levels:
Both generators are incredibly silent and are in fact a lot quieter than their counterparts of the same capacity. However, the Yamaha proves to be a bit quieter in most models examined.
Warranty: Both companies have very impressive Warranty policies worthy of their name as top brands.
Extra features
Almost everyone loves to get a little extra on their purchases. If you have considered all the major specification and you still find it hard to decide, then you can check out the extra features that come with each of the Yamaha or Honda generator you are considering. This generally Varies from one Generator model to the other, but you can be almost certain that a Yamaha generator comes with an Extra fixture that is missing in the Honda. It is not always the case, vice versa.
Honda vs Yamaha Generators, the Final verdict:
When It comes to big names like this, it's always hard to make a final decision. You have to take a lot into consideration. At the end of when faced with the hard decision between Yamaha vs Honda Generators, you should go for one that fully satisfies your needs and fits right into your budget.
As an Amazon Associate we earn from qualifying purchases.